Rajeev Nair is a popular art director and production designer who spearheads creative thinking and innovation within the industry. He draws on his years of experience in unique image production and production design, allowing him to push boundaries while ensuring successful business results. Having worked in over 80 films, Rajeev is one of the strongest pillars of films like 'Gamyam', 'Vedam', 'Prasthanam', 'Gunde Jaari Gallanthayyinde', 'Naa Bangaaru Talli', 'Fidaa' and for to name a few. During an exclusive interaction with Rajeev Nair, he expands on his working process, discusses his ideas on director-centric design and more.
Excerpt from the interview:
Rajiv reveals his educational background and admits, "I was born in Angadipuram, Kerala. It has been 20 years since I came to Hyderabad. I have since moved here. After completing my BFA in Kerala, I went to Kolkata to study BFA in Ravindra Bharathi University. I received a postgraduate degree from Visva-Bharati University, Kolkata. I started folklore research with the help of the national scholarship program at the same time. After that, I came to Hyderabad to get a degree in Television Production from Central University of Hyderabad. "
"After I finished my graduate studies, I started teaching in institutions and colleges. One fine day, I got an opportunity at Ramoji Film City as a props man. It was a turning point in my career. I worked for almost five films in Hollywood production with international people," he says.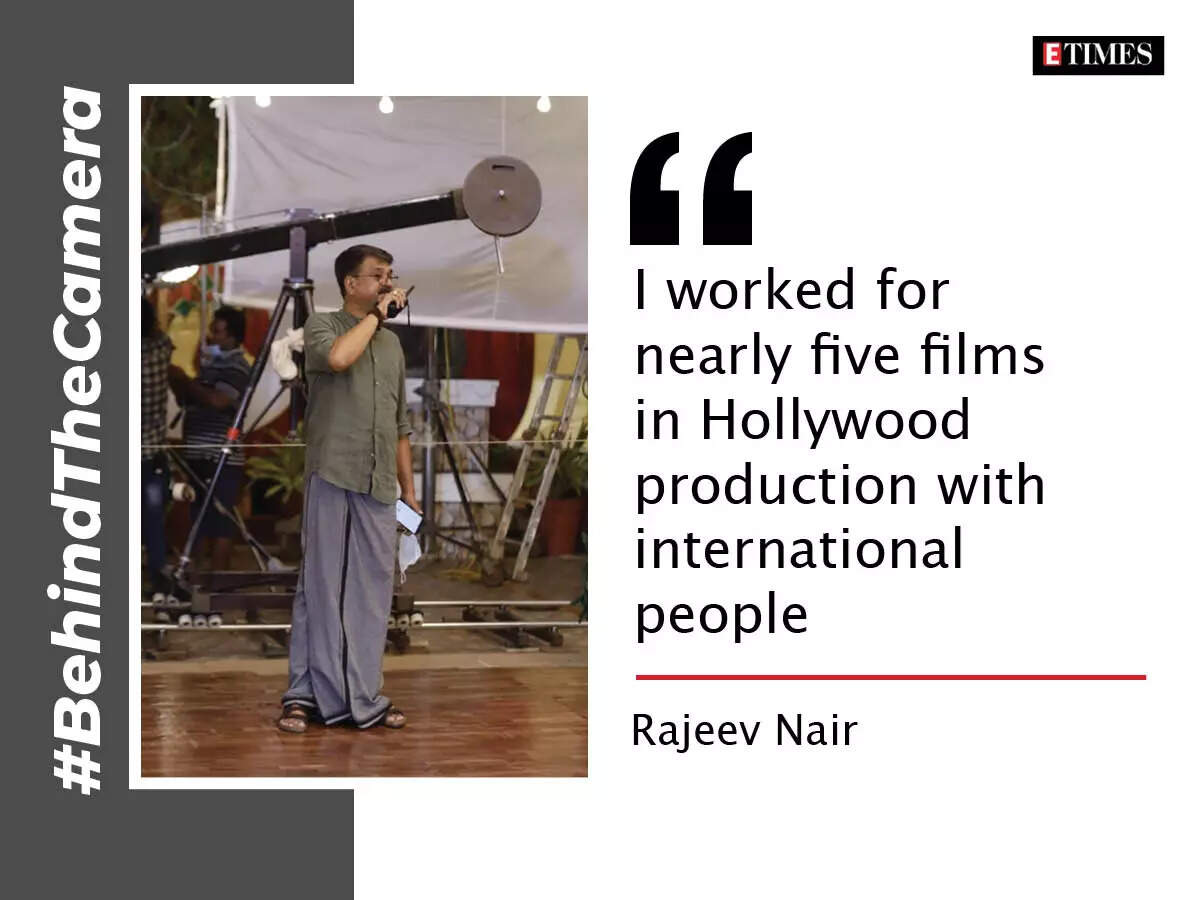 "I had the good fortune to join the team of famous artistic director Ashok Kumar for Okkadu, the star of Mahesh Babu. In fact, it was my entry into the Telugu film industry. I worked as associate art director for the film under the supervision of Ashok garu. It was a great experience. I was poor in Telugu during my early days. I learned a lot from Ashok and his team, especially the basics we needed for production design," reveals how he learned Telugu.
"I am fluent in Telugu now. The people who work with me are all Telugu guys. So, with their help, I started to learn the culture as well as the language. It was a long process. But I enjoyed while learning. This is also part of my observations," he adds.
Recalling the first film he worked on, Rajiv says, "My first film as a freelance art director is Vana, which is a remake of the hit Kannada film Mungaru Male. MS Raju garu made his directorial debut with this film. After this film, my association with MS Raju garu continued to make several successful films. From 'Okkadu' to 'Arundhati', I worked with Ashok Kumar. I was supposed to work for 'Arundhati' as an associate, but due to a delay in the filming schedule, I couldn't adjust my dates to the film and left the project.
For those who don't know what an art director does, he explains: "When a director tells a story, we imagine everything he says because we design the background and everything according to the requirements of the story. Whether it's an outdoor location, a huge backdrop, or a background color and pattern, we need to visually enhance the whole thing. Everything we see in the backdrop of a scene in a film will be taken care of by an art director. It's quite difficult and it's going to take us some time."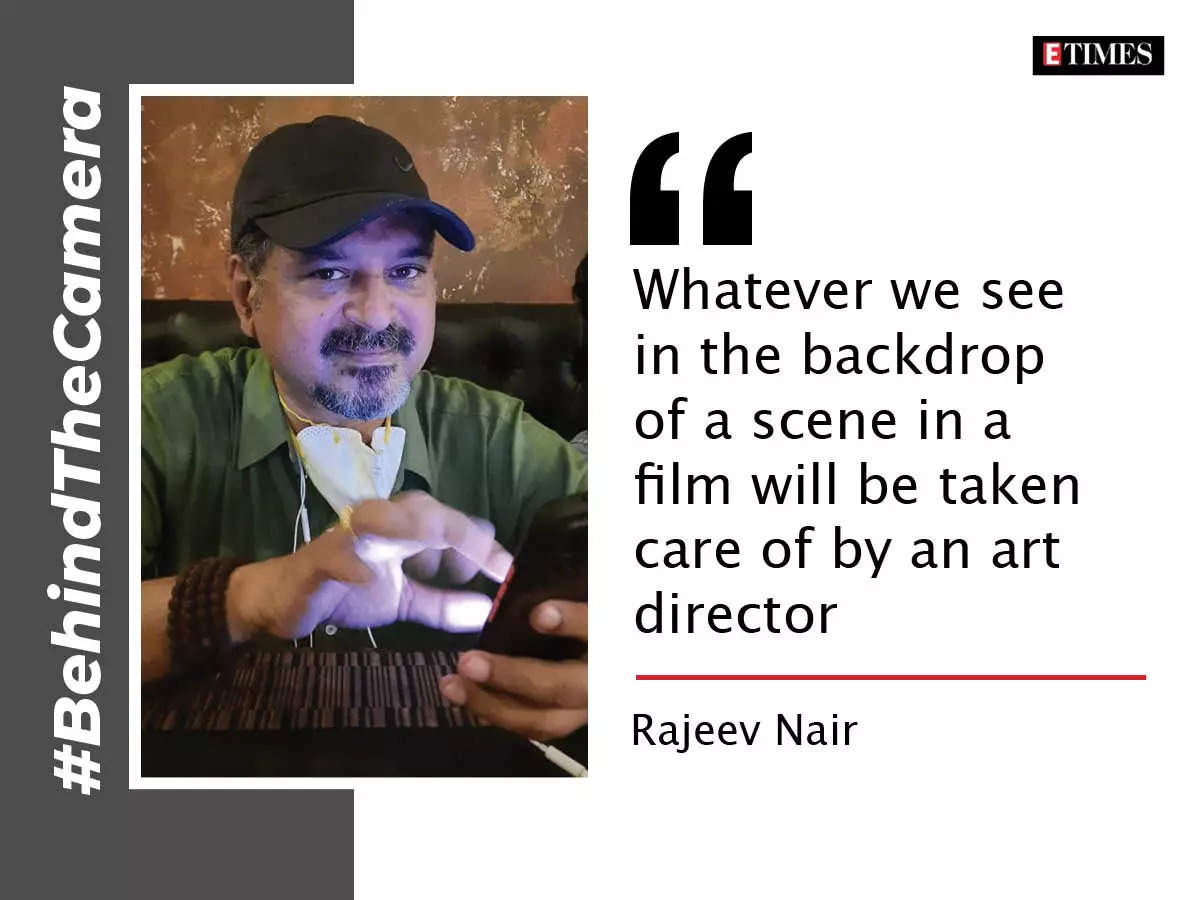 "After 'Baahubali', I can say that most people know what art direction is. We need the feel of a better way to tell stories. Due to the advancements in technology, people are getting to know what is behind the movies and all. The cameraman and the artistic director are the two hands of a director. We both travel with the director throughout the filming," Rajiv explained.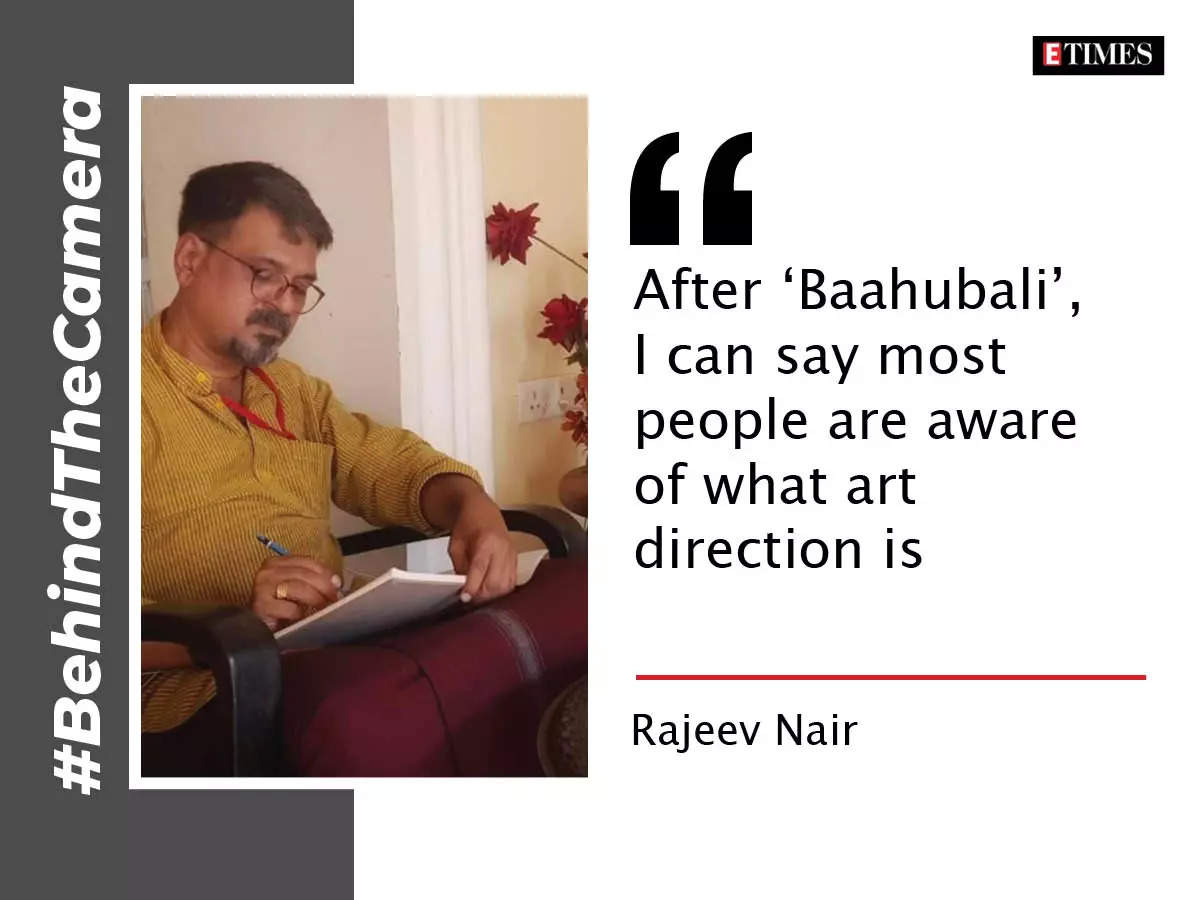 Without complaining, the director is happy where he is today. "I'm happy with who I am today. As a freelance art director, I've done nearly 80 films and enjoyed my journey. As art directors, we give each film a different feel and we love it. According to a story, an art director should do research and I do. And I love the creative process of art. It has a lot of importance in the cinema. In fact, I'm always trying to learn something that I'm doing."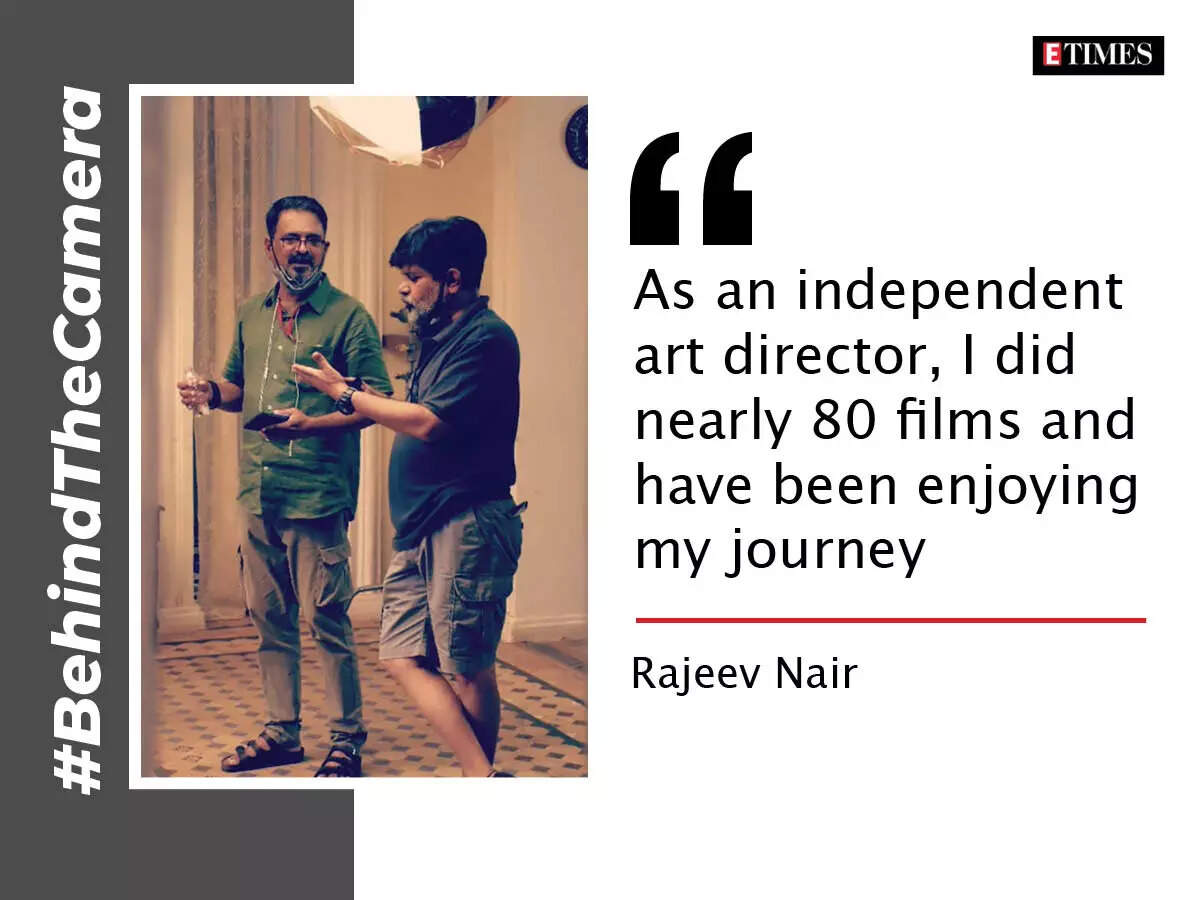 Talking about his directing plans, Rajiv said, "Several art directors have become filmmakers and made successful films. We and the directors exchange thoughts during the pre-production work. We also bring something to a film. So we can also make a film and I have plans, but not now. I don't know when that will happen. But I believe the day will come for sure. So I will wait for the moment. Meanwhile, I enjoy working in the art department."
He thinks every movie will be a challenge and it gives him a chance to become something better. He is of the opinion: "For me, each film is a challenge. There were big budget films as well as low budget films that I worked for. Depending on the budget and genre, the style would be different. Each director has a different way of telling the story and I have to follow their style. Approaches and aesthetics will change depending on genre, budget, director and all. So all my films are very difficult."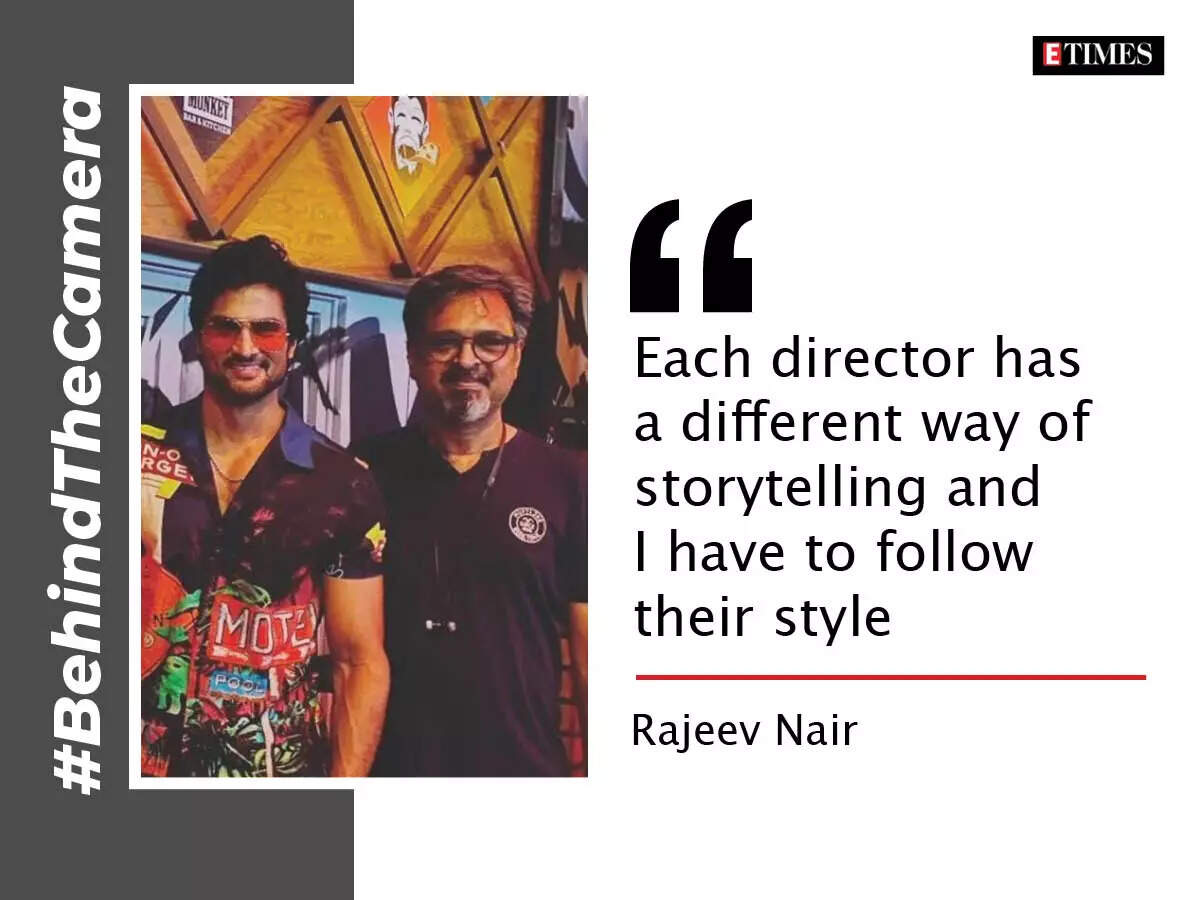 He sheds more light on the work process and says, "Creating art for every film is not the same. It depends on the genre. For example, if it is a period drama set in the past, we need to create such an atmosphere according to the story. So only people feel the reality of the scenery and everything. But it is quite a difficult task. Simply, we have to create hell and heaven at the same time. We will be ruthlessly criticized if anyone finds an error in the set. That's why we are very careful about what we do."
Revealing an interesting detail on the artistic direction, he adds: "Today we can also provide the sets. Producers spend huge amounts of money on movies, so they make sure before the movie hits the shelves. It is a risky process to erect movie sets. Thus, the workers of the cinema will be insured and they will benefit from it. The production house will handle the insurance process."
Giving advice on pursuing a career in art direction, he explains, "There are many opportunities for art directors in the Telugu film industry. If you have talent, you will have a very good place here in Tollywood. All you need is a creative mind, a flexible mindset, research ability, reasoning ability, a positive attitude and a willingness to work in a team. You have to work with different types of people once there. You have to support the director and the cameraman during the filming. So there is a good place for new talent in art direction and Tollywood always welcomes such creative people."
"There are five films ready for release. A Hindi movie titled "Music School" is about to be released soon. I recently finished working on director V Jayashankarr's 'Ari'. Sampath Nandi's production venture "Simba: The Forest Man" is in post-production and will hit screens next month. The release date is not yet confirmed for the movie 'W5'. I am currently working on Sudheer Babu-starring 'Mama Mascheendra', directed by Harshavardhan", he concludes with a smile.