In this ever-changing world we live in, as Paul McCartney sang, it is reassuring that some things remain the same. One of those fixed points is the annual Archibald Portrait Award which arrives with mind-numbing regularity, sometimes a little better, sometimes a little worse.
Godzilla has a son and so does Archibald. This child, the Packing Room Prize, has now reached the ripe old age of 30 but has not achieved significant maturity. During the reign of Chief Packer Steve Peters, who led the team like a benevolent tyrant, aesthetic intricacies were not a major consideration. The Wrapping Room award would invariably be given to a good guy or a good person in accordance with the whims of King Steve.
Following the king's abdication in 2017, Brett Cuthbertson ascended to the throne to become the new chief packer, inheriting the seigneurial privilege of a 52% stake in choosing the winner of the Hall Prize. packaging. It is nice that Prince Brett carries on the great old traditions. Last year the award went to a self-portrait of Meyne Wyatt, and this year to an image of Kate Ceberano, both good people and good people. The artist involved, just incidentally, is Kathrin Longhurst.
Ceberano is already in good shape in this competition. Peter Robertson won the Packing Room Prize in 1994 with a nude portrait in which Ceberano poses in a way that would not be out of place in a men's magazine. She would return to the Archibald Finals in 2010, in a more conservative form, in a painting by Christine O'Hagan.
Longhurst made the singer powerful and sexy while revealing only the head, shoulders and hands. This is the right kind of image for a more Puritan era but like all of Longhurst's portraits, it looks like an assertion of identity that would not be out of place in Tiananmen Square. The artist says it is the result of having spent the first part of his life in East Germany.
Although Longhurst is an extremely skilled artist, Ceberano's portrait is unlikely to make the list of directors for the Archibald Prize.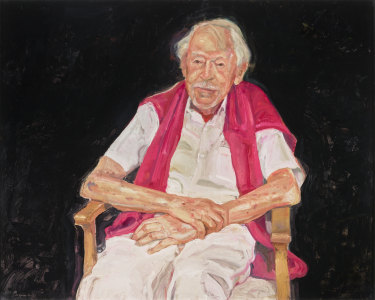 Looking around this 100th anniversary exhibit, there are a few solid entries but only one that really stands out from the crowd. The obvious winner is Peter Wegner's portrait of centenary Guy Warren. It's so obvious – a century-old artist for a century-old prize – that one wonders if the directors will be tempted to make a selection more to the left just to appear unpredictable and independent. If so, it would be a triumph of pride over justice.
Not only would Warren's portrait be a popular sentimental choice, but it's an excellent likeness that captures the model's personality with eerie precision. Plus, Wegner is a dedicated portrait painter, not someone who paints one a year every time the Archibald rolls.