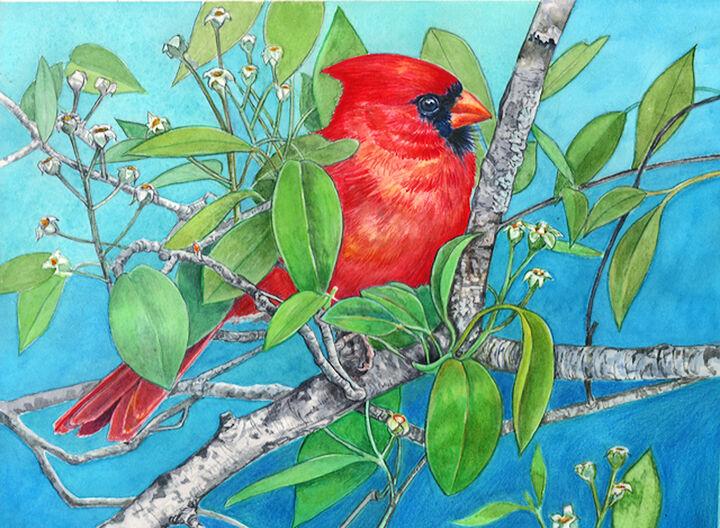 Supernatural watercolors and textile art will line the walls and shelves of the upcoming Redlands Art Association exhibition. That's when local artist Tracy Spears-Graber brings a sense of folklore and fantasy into the natural world in her art.
The title "The Natural and the Supernatural" comes from Spears-Graber's love of the idea of ​​different worlds unfolding beneath our feet as we're all busy with our mundane daily routines, her artist statement says.
Growing up in upstate New York, she began her artistic career, "Since I could pick up a pencil," she said. "When I was 18 months old, my babysitter called my parents to tell them that I had drawn a dog, and I guess she was really excited because it looked like a dog."
Spears-Graber holds a Bachelor of Fine Arts in Illustration from the Art Center College of Design in Pasadena. For 11 years, Spears-Graber worked for design firms in the Southwest while living in Flagstaff, Arizona. A gallery in Flagstaff still carries his works. She has lived in Redlands since 2009.
Art has been an essential part of his life, whether as a full-time job or on the side in the form of commission or freelance work. One of her biggest accomplishments was getting her garden bird cards printed for Brick Mills Studios or when she painted cat rescue paintings to support a cat rescue center in Lancaster.
She is inspired by illustrators like Bob Peak, Alan Cober, Stephanie Pui-Mun Law and Beatrix Potter. These illustrators not only cover commercial work but also the natural, the innovative and the fantastic.
"Some artists will be smug about it and say illustration isn't art, but I think everything is art," she said. "I think storytelling with art is just as valuable as fine art.
"[Painting] puts me in this quiet space and it takes over," she said. "It's kind of like being at peace."
She sees art as a way to connect to the world.
Spears-Graber has focused primarily on watercolor, but she works in acrylics, gouache, and in combination with colored pencils.
"Light is important, but for me it's a mixture of colors," she said.
Another medium she works with is needle felting. For this month's show, she's bringing collectible little animals. Paintings and textile art will be exhibited at the fair.
Spears-Graber has taught classes not only at the Redlands Art Association, but also at the Hands On Knitting Center in Redlands. She recently joined the Redlands Art Association and is thrilled to be the featured artist on their show 'The Natural and the Supernatural'.